Tel était le sujet de mon premier workshop à la conférence 99%, Studio Session @SyPartner.
Dans cet atelier de design thinking, nous avons réfléchi en découpant chaque aspect de l'expérience à ce qui pouvait rendre l'expérience extraordinaire.
Cette approche du service design m'a vraiment parlé car c'est ce que nous faisons dans Simplelab.ch.
Ici le processus se découpait en fonction des différentes étapes du processus, la découverte, l'usage, le paiement, le support, un peut dans la même lignée que le workshop auquel j'avais participé lors du LIFT. Pour les besoins du workshop il s'agissait d'aider une boutique d'habits online qui ouvrait son premier flagship pour devenir « brick & mortar ». Nous devions imaginer le processus de A à Z.
« How can we build an extreme experience in:
– learning
– choosing
– trying
– paying & recuring
– returning clothes »
Ce qui est intéressant dans ce découpage et qu'il permet de se concentrer sur le client et non sur les contraintes actuelles de la marque.  Et bien que la réalité nous attrape après, force est de constater que l'on peut ainsi lever de sérieux avantages concurrentiels ou d'idées innovantes, pour autant que l'on se donne carte blanche dans la partie de brainstorming.
En tout cas un sujet très intéressant et qui concerne aussi bien les entreprises en B2B que B2C.  Si la méthodologie vous intéresse, n'hésitez pas à venir nous en parler.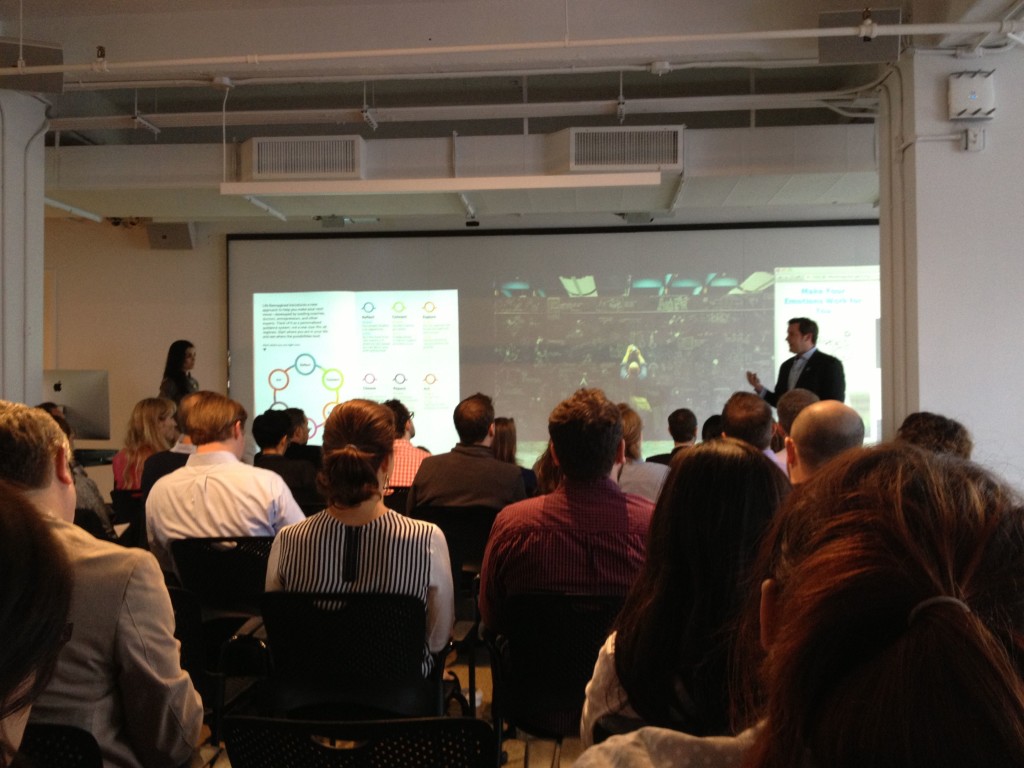 Description de la studio Session:
Creating Iconic Customer Experiences
Strategy is nothing without action. As companies continue to push themselves to stand out, they're looking for new ways to communicate who they are and what they stand for. Join SYPartners Executive Creative Director Susana Rodriguez de Tembleque for an interactive session focused on making strategy real through iconic customer experiences. The group will split off into small teams for a quickfire challenge and prototype a new customer experience that fully embodies a company's strategy and purpose.
About SYPartners New York
We help companies design their future by engaging companies at times of significant change-a new leadership team, a competitive threat, a merger, a desire to set a new growth agenda, the launch of an innovation, an opportunity to vitalize the brand. Past projects include work with Coca-Cola, Gap, GE, Nike and the complete rebranding of Starbucks.
Cet article est inspirée par la conférence 99U à laquelle nous avons assisté les 2 et 3 mai 2013 à NYC.