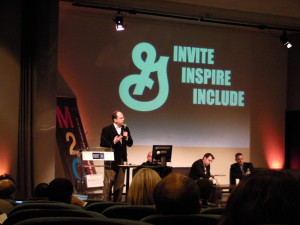 Marketing2Conference, I attended last year for the first time, happened to be a great discovery.  Full of business cases and testimonial of humble brands explaining how they were trying their way out on social media, we were offered a very valuable content.
What happens when you liked it one year, is that you expect the content to keep the good pace but often get disapointed. Definetly, the M2C conference is really an exception to this rule.
The content this year is even more interesting.  Probably because a lot of brands did some trial and learnings over the past year, but most obviously because of the good combination of Nils Andres powerful network and of the vanksen team relentless efforts to keep up with good buzz.
So, this year, to get prepared for the good, I came up with my brand new video to keep track of the best bits.
And what I did was quite special.  I decided to only film the last 10 minutes.  Most of the presenters only start to get in the really good stuff at the end.  And believe it or not, apart from one presentation (dunkin donut) I indeed captured the best extracts.
So here is my contribution to sharing the best of best of reknown brands best practices in terms of brand advocacy using web 2.0 strategies.
I really advise my favorites, namely dunkin donut for the clever online strategy, P&G for the cognitive approach, Emmanuel Vivier for the « get real » message to customers, Evian for the master presentation of their latest incredible viral campaign and wallmart for their ability to catch the train – late – but successfully.
Hope you will like the videos.  And if you do, please leave me comments and ranks the videos accordingly so that I get a feedback of how you like them too 😉
Here is the evian video:
You can access all the other video via our netinfluenceChannel on youtube.